Welcome once again faithful Filmdoggers. Faith is once again at the forefront of this week's review as we unearth a modern classic in 'Calvary', the 2nd film in John Michael McDonagh's unfinished 'Suicide Trilogy'. We've also gone back to check out 'The Guard' from 2011 which opens the collection so look away now if you don't like Brendan Gleeson...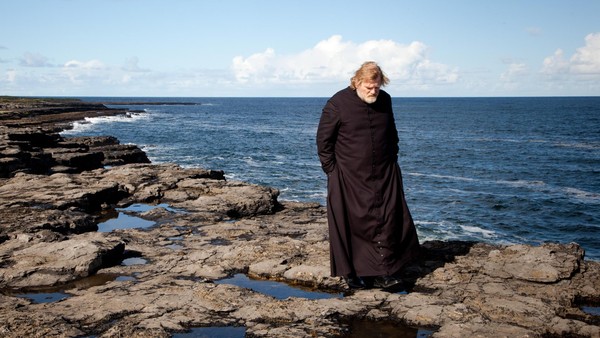 Calvary (Greenwich Picturehouse)
'There they crucified him, and the malefactors, one on the right hand, and the other on the left'
What would you do if you knew you only had a week to live? That's the dilemma facing Father James Lavelle (Brendan Gleeson) in Calvary, a beautiful film about one priest's struggle to maintain his faith while his resilience is tested by his very own flock.
The opening scene sets the tone as Father James, while taking Sunday Confession, is told he's going to be murdered in 7 days time. The would-be-killer, his identity a mystery, revealing the pain and inner torture from years of sexual abuse at the hands of the Catholic Church. With his abusers already in the ground, he's decided to take revenge by killing a good priest, an 'innocent' one instead. "That'd be a shock."
What plays out is a very clever, blackly comic, reverse murder-mystery in which the audience is introduced to a variety of characters from this close-knit Sligo town, outwardly showing contempt and mockery for Father James and the outdated institution he represents, while inwardly dealing with the issues of their own faith, severely tested or lost altogether following years of scandal surrounding the Catholic Church.
Our list of potential assassins includes a libidinous Ivorian mechanic, a local butcher in the middle of an emotional love triangle, a young man with murderous thoughts born out of sexual frustration, an antagonistic pub landlord, an atheist doctor, a mentally fragile rent-boy and a rich banker with a superiority complex.
Intriguingly, Father James suspects he knows the identity of his would-be murderer yet carries on with his daily duties anyway, doing his earnest best to fulfil his spiritual calling and putting his faith to the ultimate test.
It's a wonderful film full of rich photography and showing the west coast of Ireland in its picturesque full glory despite the underlying grizzly theme. Religious imagery is put to good use to highlight the contrast between Father James and those he means to serve. He strikes a lone figure wearing the priest's soutane for much of the film, only changing into casual clothes at the point when his faith is most tested but the soutane serves as a uniform, reminding him of his duty. His room is sparsely decorated with a simple cross adorning a large white wall and you understand the integrity behind the man. He practises what he preaches and is fully committed to his servitude of God even if it means paying the ultimate price in the process.
Brendan Gleeson has never been better in my opinion and this is a real behemoth of a performance. He plays it serious but still manages to add a lot of humour to a film which is very sombre and sorrowful. The cast is excellent with noteworthy turns from comedy stars Chris O'Dowd, Dylan Moran and Pat Shortt, all of them convincing in serious roles, and I thought this was a pretty special film. It's very moving, powerful and full of great characters. Go and see it before it disappears from the cinemas.
(Calvary is showing at all Picturehouses and selected Odeon, Vue and Cineworld cinemas in the UK)
The Guard (Netflix Canada)
'Galway Confidential'
I recently downloaded a free Chrome extension called Hola Unblocker which allows my computer to access content from around the world that wouldn't ordinarily be available in my country. I've found it very useful, particularly for accessing a wider range of films that I can't watch on Netflix UK. The limitation is that I have to watch it on my laptop rather than through the Wii but I can live with that.
One film I wanted to watch after seeing Calvary was John Michael McDonagh's previous film The Guard which I accessed on Netflix Canada. Once again Brendan Gleeson plays the lead character Gerry Boyle, a maverick police officer from Galway whose work-life balance is firmly tilted towards the latter end of the scale. He supplements the everyday boredom of policing with drinking, recreational drugs and hookers, making no apologies for it.
Boyle is teamed up with Don Cheadle's FBI Agent Wendell Everett to track down a trio of drug traffickers (Liam Cunningham, Mark Strong and David Wilmot) who are responsible for the murder of Boyle's partner. Their relationship has traces of 48 Hours as Boyle's unintentional racism and laissez-faire attitude towards by-the-book law enforcement causes friction between the two of them, but they eventually bond, acclimatising to the other's habits.
Integrity is a key theme in McDonagh's films and similarly to Father James in Calvary, Boyle is the lone wolf among a flock of bent cops who feels compelled to be true to himself and his own beliefs despite the potential risks. The ending of both films shares a lot of the same beats, both putting on their uniforms for the final showdown, symbolising their dedication to their team.
While it shares many of the same cast and themes as
Calvary,
it's tonally different, opting for more openly comic moments and more eccentricity in its characters, most obviously in the way the drug traffickers have been written. The villainous trio are heavily clichéd and comic bookish in their dialogue, having existential discussions among themselves before committing brutal murders. They could easily be Dr Evil's henchmen from the Austin Powers films, so far removed are they from reality and this grates with the rest of the action, which while not enshrined in realism, takes itself a just little more seriously. The final showdown feels rushed, blundering through a barrage of machine gun fire and daft one-liners and it left me just a little unsatisfied.
The Guard is an enjoyable film but it feels more like a trial run for Calvary, in which writer-director McDonagh seems to have figured out what did and didn't work from this film, giving the characters to his follow-up more depth and it benefits from a better sense of pace. Don't be put off though, it's still a lot of fun and Gleeson is terrific as usual. Watch The Guard and Calvary in chronological order to maximise your enjoyment and you'll see how an exciting filmmaker improved over the course of 2 films.