After our most recent forays into the hidden gems of Netflix, I finally managed to make it out of my front door to watch a couple of new releases. First up it's the Coen brothers' take on the 60's folk scene in Inside Llewyn Davies. Once the gig's over we'll be taking a road trip to Nebraska...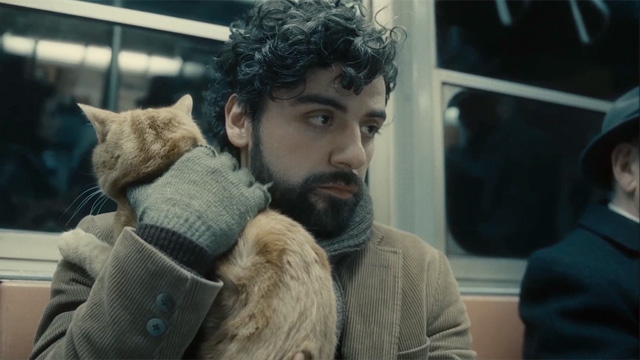 Inside Llewyn Davies (Greenwich Picturehouse)
'Reality Bites...'
We spend a week in the damp shoes of Llewyn Davies (Oscar Isaac), a character based on Dave Van Ronk, a singer on the 1961 Greenwich Village folk circuit, as he faces poverty and a string of misfortunes in an attempt to make it as a successful solo artist.
He's talented, no doubt about it. The opening song, 'Hang Me, Oh Hang Me', played to an attentive audience in a smokey folk club, is a nice little tune and indicative of the kind of soundtrack we can expect throughout the film. It benefits from the authenticity of Isaac's own skill as a guitarist and singer, and it's an involving performance.
Without a guitar in his hands, however, he's King Midas in reverse. Everything he touches turns to shit. The film follows Llewyn's fraught journey from New York to Chicago and back again, sleeping on whatever couch is available and offering a less-than-romantic portrayal of life as a gigging folk musician, the realities of which often involve a lot of boredom between the highs of playing live gigs.
It has the typical Coen quirks. Regular contributor John Goodman turns up as a condescending, jazz-loving junkie on Llewyn's road trip to Chicago (a section of the film I found fairly pointless). Garrett Hedlund may as well have not been in it at all. His role as an almost mute rocker serves no purpose to the story whatsoever. Cary Mulligan and Justin Timberlake are almost cameo-like in the brevity of their screen time as Llewyn's long suffering friends Jim and Jean.
The focus is solely on the title star and we're lucky that Oscar Isaac is talented enough both as an actor and musician to make his performance an engaging one, otherwise this would have been another to add to the list of Coen Brother bore-fests (The Man Who Wasn't There, A Serious Man).
I liked this film but it's not something I'd urge you to go and see if you're fussed about story or plot because there isn't one really, just a straight forward narrative of a man going from A to C, stopping at B to sleep. Despite being categorised as a comedy by some media outlets, it's certainly not that. There are a few amusing moments, mostly to do with a sub-plot involving a runaway cat, but generally it's a serious and quietly contemplative drama about one man's inner turmoil, as he racks his conscience about whether music is really worth all the hassle.
When you're cold, broke, miserable and constantly having to struggle for your art it can be a lonely place and that's what the directors have chosen to show here. In many ways it's the most realistic portrayal I've seen of life in the music scene. It struck a chord with me, and will do to anyone else whose played a handful of live gigs, but there are no peaks or troughs to entertain the average film-goer. Just a long, often bleak journey with plenty of time for self-contemplation. It's stylish though, and judging by the audience in my cinema, those with fond memories of the 60's folk scene will dig it. Younger audiences may struggle to appreciate either the music or the sombre tone of the film but credit to the Coens for their authenticity.
Nebraska (Prince Charles Cinema)
'It's in the middle somewhere...'
Bruce Dern gives a potential Oscar-Winning performance as Woody Grant, a booze-addled grouch prone to bouts of detachment from reality, who's intent on getting to Lincoln, Nebraska to collect the million dollars he's won after receiving a winning 'mega sweepstakes' coupon in the mail.
Of course, we know that there is no million dollar prize. Woody's wife and sons know it too, but that doesn't stop him from making several failed attempts at the journey, mostly by foot (he's lost his drivers licence on account of his age) before being taken home by the police or his family who think he's finally lost his marbles.
Woody's son David (comedy actor-writer Will Forte) finally agrees to ferry his old man on the 1700 mile round trip from their hometown in Billings, Montana in order to spend some time with his father. Their road trip sees them take in Mount Rushmore ("It's just a hump of rock...doesn't look finished to me") and various small town bars along the way before paying a visit to some extended family in their old hometown of Hawthorne.
The director, Alexander Payne, a native of Nebraska, shoots in a beautifully cinematic black and white, showing a state that has been left behind, run-down and rusty compared to the modern metropolises of coastal America. The effects of the 2008 financial crisis have taken their toll on these quiet mid-west identikit towns, each bar looking like the last, full of the townsmen sitting around drinking, docile and content with their insignificance in the world.
When news of Woody's good fortune breaks out he becomes something of a local celebrity, however this bring it's own pitfalls as old friends and family alike form and orderly queue for hand-outs from poor old Woody, still convinced he's won enough money to buy his dream wish-list; a brand new truck and an air compressor.
It falls upon hapless David to fend off the vultures, aware that the more the rumour of his father's fortune spreads, the more their lives will become increasingly complicated. He finally gets to share the burden of responsibility once his mother (June Squibb) and brother Ross (Breaking Bad's Bob Odenkirk) show up in Hawthorne for the Grant family reunion, leading to several blackly-comic episodes.
As Woody and David eventually make it to Lincoln, is it too far fetched that Woody has actually won a million dollars?
It's an enjoyable ride if you have the patience for it, but you're going to need a lot of it. Bruce Dern doesn't have a great deal of dialogue as Woody but he's absolutely brilliant. He gives a wonderfully moving performance, often without saying anything. There's confusion and inner conflict going on behind his eyes, face blank and emotionless, with a childlike quality to contrast his stern, brash exterior. He's well supported by Forte and Odenkirk who provide the humorous sit-com moments, and Squibb is great fun as their foul-mouthed mother, worn out by Woody's fantastical escapades.
I've had a couple of small bets on both Dern and Squibb to win at the Oscars for their roles in this film. They're both long shots, around 40/1 and 33/1 respectively, but I wouldn't be stunned to see either win, based on Dern's masterful performance and the lack of strength in the Best Supporting Actress category.
Nebraska isn't a thrill ride, it's tonally more in tune with Inside Llewyn Davies, thought-provoking and focused on great individual performances rather than telling a wonderful story.