After spending a weekend in Oslo, where a pint of beer costs north of £8 and the snow falls 24 hours a day, you won't be surprised to hear that I stayed in my hotel room quite a bit. Rather luckily, Netflix seemed to work perfectly, so with that in mind here's a very European Le Chien de Film Hebdomadaire. First up we're in Berlin to check out Kate Winslet's Oscar-winning norks in The Reader before time-travelling to 2027 London with Children of Men before swinging back to 60's Twickenham to study An Education...
The Reader (Netflix)
'There's something about Schmidt...'
Ah! Kate Winslet. One of my favourite actresses, continuing Dame Helen Mirren's tradition of getting her kit off in every film, and star of The Reader. Here she plays Hannah Schmidt, a tram conductor with a hidden past. One day she finds a sick young man vomiting on her doorstep and gives him a little TLC of the inappropriate kind. 15 year old Michael (David Kross) and Hannah form a relationship built on lovemaking, regular showers and the reading of books, more accurately his reading aloud to her. They fall in love but gradually grow frustrated at their routine and the secrecy which Hannah must maintain. After a fight one day she packs her things and leaves.
We jump back and forth through time, between middle aged Michael (Ralph Fiennes) and his younger self, a university student studying to be a lawyer, racked by guilt after finding out his lover's real identity and spending the next few decades wondering if he could have done more to help the woman he loved.
Given the heavy nature of the subject matter (Nazi war crimes)
I wouldn't call The Reader a particularly enjoyable film but it successfully captures the mood of Germany's post-war hangover, the national guilt of the older generation and the contempt among the youth for their parents complicit inertia towards the evils of Nazism
. Winslet won the Best Actress Oscar for her role as Hannah (her
Golden Globe winning performance in Revolutionary Road was not entered for this category as
it was thought this stood more chance of winning) and it's not without irony, and with tongue firmly in cheek, that she predicted this achievement 3 years earlier in an episode of Extras.
It's worth a watch but the third act will leave you feeling a little underwhelmed. If you're short on time but still want a brilliant holocaust-performance from Kate Winslet, go and watch Extras instead.
* * *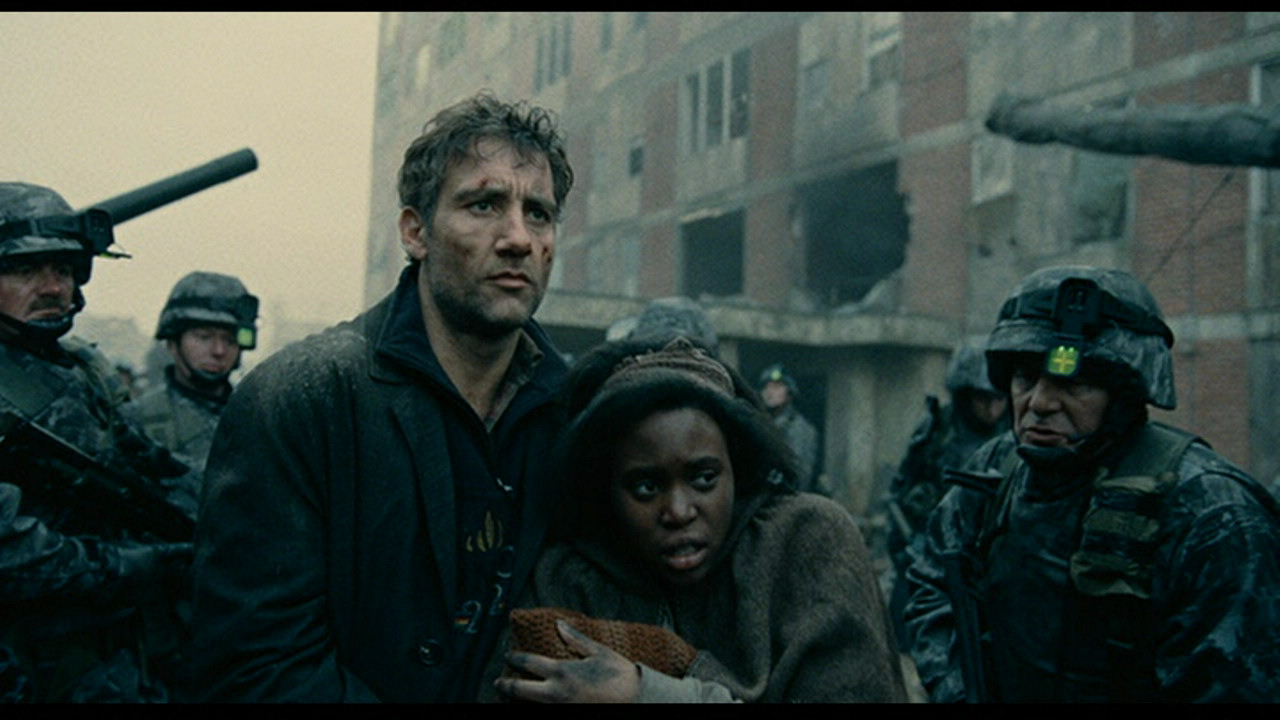 Children of Men (Netflix)
'Posh in Bexhill'
Children of Men is set in 2027 and imagines a world where women have grown infertile. The youngest man on earth, Baby Diego, has just died at the age of 18, putting the global community in a state of shared grief while all around tensions are mounting as the population comes to terms with the fact that the human race is on the verge of extinction.
Into this chaos we have Theo (Clive Owen), seemingly resigned to his fate until a visit from his ex-wife (Julianne Moore), leader of an underground faction of radicals called the Fish, suddenly puts Theo into the role of reluctant hero as he's charged with escorting a miraculously pregnant young immigrant to the safe haven of the offshore Human Project (via Bexhill-on-Sea).
It's very bleak (the camera filter gives England a uniquely grey vibe) and the violence is often quite graphic but it's very cinematic. Dystopian London has never looked so good on screen as director Alfonso Cuaron, the man behind recent hit Gravity, provides some wonderful set pieces, often following his characters in one long take without cuts.
The end of the film is quite exhausting with lots of running this way and that way, guns being fired, bombs going off and for me this is where it starts to unravel but if you want something that's thought-provoking, original and packing plenty of punch (you'll be shocked more than once) then this is for you.
* * * *
An Education (Netflix)
'Don't apply to Oxbridge. It doesn't exist'
It's the sixties and we're in suburban London. Jenny (Carey Mulligan) is very mature for her age. She's 16 going on 17 (Rolfe wouldn't stand a chance ) and
yearning to fill her life with fun and excitement. Driven hard by her overbearing father (Alfred Molina), she's a shoe-in for a university place at Oxford until she strikes up a relationship with an older man, David (Peter Sarsgaard doing a pretty impressive English accent), a charismatic playboy who makes a big impression on Jenny with his wealth and taste in music.
She gets caught up in a whirlwind romance and begins to live the high life, hanging out with David's rich friends (Dominic Cooper and Rosamund Pike), enjoying getaways to Paris and Oxford and she soon becomes accustomed to her new way of life, i
nevitably falling behind in her studies and putting her education (of the formal variety) in jeopardy.
It's not difficult to see where the film is going. David turns out to be somewhat of a bounder (Did the alarm bells not started ringing when a 30 year old bloke starts pursuing a schoolgirl?) and Jenny soon has some big decisions to make in order to get her life back on track.
It's not bad but I soon found myself losing interest. More of a 'meh-ducation'.
* *